Q&A with CEO Tyson Quick: The Complete Details Behind Postclick
Postclick's CEO Tyson Quick and our team have been perfecting the post-click experience since our humble beginnings in 2012. Many digital advertisers consider the "post-click experience" as simple message matching headlines, images, and colors. Yet, to provide 1:1 personalization, brands need to be providing unique experiences to each respective audience.
Accomplishing that requires you to understand how prospects and customers have engaged with your brand already:
Are they first-time website visitors?
Which website or landing pages have they visited?
Did they abandon a shopping cart?
Interacted with you over social media?
All of these are examples that would require a dedicated experience to nurture the user further down the funnel into a purchase.
Today's post interviews our founder as he introduces you to Postclick and how our managed service is the next evolution in advertising personalization.
Why do you think advertising personalization is the biggest problem facing brands today?
TQ: The biggest problem facing most brands today is the lack of personalized post-click experiences for each advertising engagement. The reason why is simple. The vast majority of advertising budgets are wasted because marketing leaders continue to have a "get more clicks" mentality.
By 2023 the global digital advertising market is predicted to be larger than half a trillion dollars: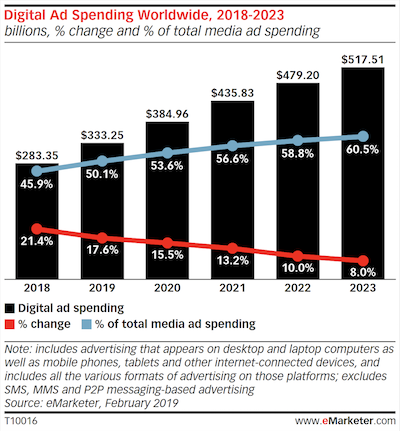 Yet only 4.40% of direct response digital advertising clicks result in a conversion. What other industry would accept this magnitude of waste?
The reason for the inefficiency is only two-fold;
Customers are not ready to commit
The post-click experience does not match the intent or expectations they had when they engaged with the ad.
As advertisers, we have significant control over one of these and it's time to fix it. It's time we make advertising experiences more relevant through 1:1 ad-to-page personalization at scale.
What is the managed service offering with Postclick?
TQ: Postclick is a tech-enabled service that delivers a much higher return on digital advertising investment. We do this with our expert conversion-intelligence team, refined processes, and market-leading post-click automation technology.
The reason why most companies don't have a sophisticated post-click strategy is that they lack the people, process, technology and strategy. Postclick solves this.
How is the managed service related to post-click automation?
TQ: Post-click automation is the technology category we created to help solve the advertising conversion problem through ad-to-page personalization at scale:
We call our solution for PCA the world's first and only Advertising Conversion Cloud™ and we combine this technology with our expert conversion intelligence services:
How is Postclick unique from other market offerings?
TQ: Most landing page builders are built for SMB and mid-market companies who want to go from 0-100 experiences. And they have the resources and time to implement a basic post-click personalization on their own.
Postclick was built to service the needs of enterprise brands who want to go from 100-1,000's of pages. Plus, they prefer to outsource the conversion intelligence strategy and post-click delivery to an expert team.
Which companies are most applicable to Postclick?
TQ: Companies where digital advertising is a top three customer acquisition channel. But also those who see the value in having more relevant alignment between the expectations of an advertisement and the destination.
How can companies request a complimentary analysis?
TQ: We would like to offer you a complimentary analysis of your ad campaigns including competitive insights against your top 5 competitors and the top sites in your industry. Our team will share insights on how we can increase your conversion rates, in addition to a comprehensive competitive analysis.
We will review your campaigns to analyze your post-click health, compare your site against industry and competitive benchmarks, and identify the most effective opportunities to increase your ROAS. Request your analysis here.